Are you seeking the ideal beach vacation spot with fine white sand, azure waters, and breathtaking mountain views? Look no farther than Al Aqah Beach Khorfakkan, which is located in the stunning United Arab Emirates city of Khorfakkan. Unknown to the general public, Al Aqah Beach is a haven of peace and tranquility away from the busy city life. We'll go over all you need to know about Al Aqah Beach in this post, including the ideal time to go, things to do, local customs, and food as well as the best tour agency for best khorfakkan tour package in Dubai.
Location and History of Al Aqah Beach Khorfakkan:
On the UAE's east coast, in the Emirate of Fujairah, is where you'll find Al Aqah Beach. It is a two-hour trip from Dubai and a 45-minute drive from the city of Fujairah. The gorgeous Hajar Mountains surround the beach, which has a length of more than 1.5 kilometers, providing guests with a breathtaking vista. The beach has a long history and was well-liked by pearl divers in the nineteenth century. Currently, both locals and tourists use this popular location.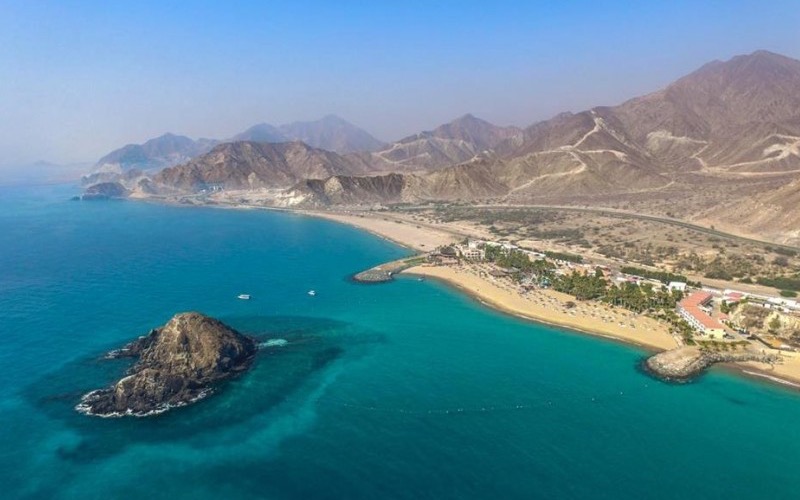 Activities to Do at Al Aqah Beach Khorfakkan:
Visitors of any age can participate in the numerous activities that are available at Al Aqah Beach. The following are some of the things that you absolutely have to do:
Water Sports at Al Aqah Beach Khorfakkan:
Those who enjoy participating in water activities will adore this beach. You can try your hand at paddleboarding, kayaking, and jet skiing. Snorkeling and scuba diving are both wonderful activities that can be enjoyed in the sea because it is so clear.
Hiking at Al Aqah Beach Khorfakkan:
Those who are looking for an exciting hike can find it in the Hajar Mountains, which are located all around the beach. The trails come in a variety of degrees of difficulty; therefore, you should select one that is appropriate for your current level of physical ability.
Relaxation at Al Aqah beach:
You may simply lie down in the warm rays of the sun on the beach or schedule a massage at one of the local spas if you're seeking for a more laid-back way to spend your time here.
Local Culture and Cuisine:
Khorfakkan is a city that has a lot of history and culture. People can learn about Emirati culture by going to the Khorfakkan Heritage Area. Which has traditional Emirati buildings, as well as pottery, and jewelry on display. Khorfakkan has a unique style of cooking that is heavily influenced by the fact that it is near the coast. Fish, shrimp, and lobster that have been grilled are must-tries. in addition you can also try Emirati dishes like Machboos, which is a spicy rice dish, and Luqaimat (a sweet fried dumpling).
Accommodation
There are many places to stay near Al Aqah Beach, from high-end resorts to hotels that are easy on the wallet. The Inter Continental Fujairah Resort, as well as the Le Méridien Al Aqah Beach Resort, and the Fujairah Rotana Resort & Spa are some of the most popular resorts.
Al Aqah Beach Khorfakkan is a great place to go on a beach vacation if you want peace and quiet. It's a real hidden gem in the UAE, with clear water, a sandy beach, and beautiful views of the mountains. Al Aqah Beach has something for everyone, whether you like water sports, hiking, or just want to find a quiet place to relax and unwind.
Best Time to Visit:
From October to May, when the weather is pleasant and not too hot, is the perfect time to visit Al Aqah Beach Khorfakkan. These months have a temperature range of 25 to 30 °C, which is perfect for outdoor activities like swimming, snorkeling, and sunbathing. Nonetheless, you might want to think about going on a weekday if you like less crowded beaches.
Frequently Asked Questions:
Question 1: Is Al Aqah Beach suitable for families with children?
Answer: Yes, Al Aqah Beach is a family-friendly destination. The water is calm, making it safe for children to swim, and there are plenty of activities for kids to enjoy.
Question 2: Can I bring my own food and drinks to Al Aqah Beach?
Answer: Yes, you can bring your own food and drinks to the beach. However, please be mindful of the environment and dispose of your trash properly.
Question 3: Is it possible to rent equipment for water sports at Al Aqah Beach?
Answer: Yes, there are several water sports centers at Al Aqah Beach that offer equipment rental for activities. Such as kayaking, paddle boarding, and jet skiing.
Question 4: Are there any restrictions on clothing at Al Aqah Beach?
Answer: As with all beaches in the UAE, it's recommended to dress modestly out of respect for the local culture. Swimwear is acceptable on the beach, but it's advisable to cover up when leaving the beach area.
Question 5: What's the best way to get to Al Aqah Beach?
Answer: The easiest way to get to Al Aqah Beach is by car. It's a two-hour drive from Dubai and a 45-minute drive from Fujairah. Alternatively, you can take a taxi or a bus from the nearby cities.