Are you making preparations for your next trip to the beach? Take for example the town of Khor Fakkan. This is located in the United Arab Emirates and is famous for the natural sandy beach. Sandy Beach Khorfakkan, which can be found on the eastern coast of the United Arab Emirates, is a well-known location for beachgoers. In this piece, we will lead you on an adventure to Sandy Beach. Which is considered to be one of Khor Fakkan's best kept secrets.
Introduction to Sandy Beach Khorfakkan:
The town of Khor Fakkan, which can be found on the eastern coast of the United Arab Emirates, is well-known for the breathtaking vistas and natural splendor that it offers. The town's location at the foot of the Hajar Mountains. Which makes it a popular destination for mountain climbers and hikers alike. Furthermore well-known is the port of Khor Fakkan, which boasts one of the most extensive container terminals in the surrounding area.
Discovering Sandy Beach Khorfakkan:
The isolated cove known as Sandy Beach can be found near Khor Fakkan and provides visitors with an experience at the beach that is second to none. This unspoiled beach is well-known for its turquoise seas, white sand, and stunning views of the surrounding Hajar Mountains. The beach is kept in excellent condition, and there are lifeguards and clean amenities available to assure your safety at all times.
Getting to Sandy Beach Khorfakkan:
Sandy Beach is conveniently placed just a few kilometers away from the town of Khor Fakkan, and it is very simple to get there by automobile. You can take a taxi or a bus from the main square of the town if you do not have access to a vehicle. You do not need to be concerned about obtaining a parking spot because the beach offers sufficient parking facilities for everyone's vehicles.
Sandy Beach Khorfakkan Activities:
Visitors can participate in a variety of beach activities while they are at Sandy Beach. Such as swimming, sunbathing, as well as snorkeling, and playing beach volleyball. You can hire boats and fishing equipment from the beach club. Although this is the another big reason why the beach is such a great place to go fishing and boating. If you enjoy being on the water and participating in sports, you might want to give parasailing or jet skiing a shot at sandy beach khorfakkan.
Beach Facilities:
At Sandy Beach khorfakkan, you'll find every amenity you could possibly require for a relaxing day at the beach. It is possible to hire showers and changing rooms, as well as bathrooms and beach umbrellas, at this location. The beach also features a beach club, which provides visitors with the opportunity to indulge in a variety of delectable refreshments and light bites while taking in the breathtaking scenery.
Best Time to Visit Sandy Beach Khorfakkan:
The months of October through April, when the weather is often temperate and pleasant, are the perfect time to pay a visit to Sandy Beach Khorfakkan. Because of the high temperatures that can be reached during the summer months, it might be unpleasant to spend extended periods of time at the beach. It is also essential to keep in mind that the beach may become crowded during the high season. So, it is best to get there as early as possible in order to guarantee a position.
Accommodation For Khor Fakkan Tour:
Visitors can select from a variety of lodging alternatives in Khor Fakkan, ranging from five-star hotels to low-cost guesthouses, depending on their preferences and budgets. You can reserve a stay at either the Oceanic Khorfakkan Resort & Spa as well as the Sandy Beach Hotel & Resort. These options for you, if you are seeking for a holiday at the beach that is both opulent and relaxing. For budget-friendly options, you might check out the Hotel or the Fujairah Youth Hostel for Khor Fakkan Tour Package.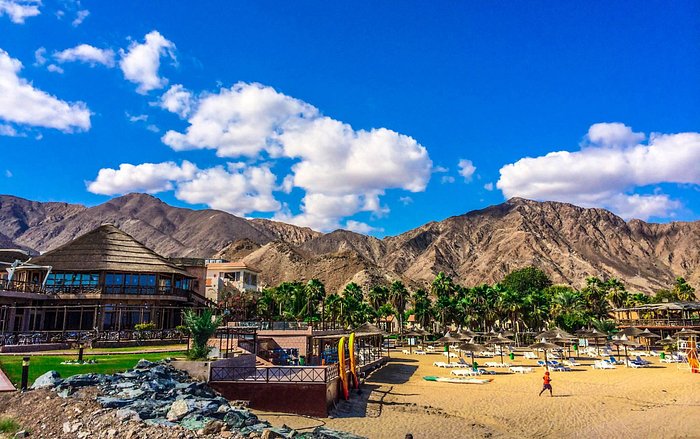 Sandy Beach Khorfakkan is a little-known gem that provides visitors with a beach experience that is second to none. Beachgoers who are interested in seeing a place that is known for its beautiful beaches, clear turquoise waters, and white sand should go there. The Hajar Mountains may be seen in the background. So, pack your luggage, grab your sunscreen, and head to Khor Fakkan for a fantastic beach holiday. Check More Packages.
Frequently Asked Questions:
Question 1: Is Sandy Beach free to visit?
Answer: Yes, Sandy Beach is free to visit. This is the main reason sandy beach is the most attractive activity among the tourists.
Question 2: Are there lifeguards on duty at Sandy Beach?
Answer: Yes, there are lifeguards on duty at Sandy Beach to ensure your safety. Tour Companies like Eagle Eyes Tourism and Dubai Trip Helper always concerned the safety of their guests.
Question 3: Can I rent beach umbrellas and equipment at Sandy Beach?
Answer: Yes, you can rent beach umbrellas, fishing equipment as well as equipment you required easily.
"Experience the wonders of Dubai with Eagle Eyes Tourism LLC! Book your desired tour today and discover the city's iconic landmarks, as well as stunning architecture, and rich culture. Such as thrilling desert safari deals, Dhow Cruise Dinner and luxurious city tours. Although we have something for everyone, don't miss out on the adventure of a lifetime.